How to choose the right logistics provider for fresh and frozen fruit and vegetable supplies
Choosing the right logistics provider for fresh and frozen fruit and vegetable supplies is no easy task. It is important to remember that each logistics provider will have slightly different solutions, timelines, costs, and other factors that may affect your decision. Here are some tips to help you choose the right logistics provider for your fresh and frozen fruit and vegetable supply needs:
1. Assess Your Needs
Before selecting a logistics provider, it is important to assess what kind of services you need for your business. Consider how often shipments are made or received, how far they must go, any specialized requirements such as temperature-controlled storage or packaging requirements, budget constraints, type of products shipped (i.e., fresh vs frozen), etc.
Consider these factors and determine what type of services you need before selecting a logistics provider.
2. Research Available Logistics Providers
Once you have determined your needs, perform research on available logistics providers to find the best fit for your business. Make sure to read reviews, ask for referrals from other businesses in the industry, and consider any additional fees or restrictions that may apply. It is also important to consider the geographical reach of each provider as this will affect their ability to deliver products quickly and efficiently.
3. Compare Prices and Haulage Services
Take some time to compare prices and services offered by different logistics providers so that you can get the best deal for your budget. Consider the cost of shipping and delivery times as well as any additional services offered such as temperature-controlled storage and specialized packaging.
4. Contract and Delivery
Once you have selected a logistics provider, make sure to review the contract thoroughly before signing. Also take note of any additional fees or restrictions that may apply during delivery so that you can be prepared for them in advance. Finally, stay in touch with your logistics provider to ensure that deliveries are made on time and without disruption.
By following these tips, you should be able to find the right logistics provider for your fresh and frozen fruit and vegetable supply needs. With careful planning and research, you can select a reliable partner who will help your business succeed!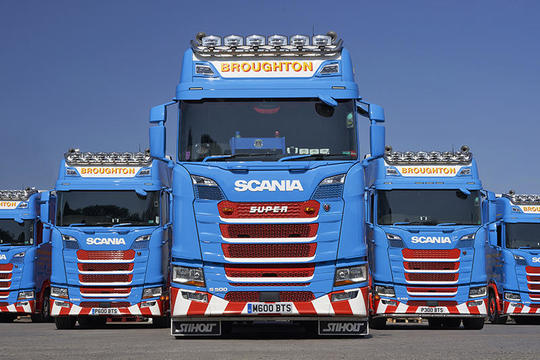 Brought Transport Solutions: Why businesses choose us for their temperature controlled logistics
How to pack fruit for refrigerated and frozen haulage
For refrigerated haulage, use insulated boxes or packaging to maintain a cool temperature for the fruit. Additionally, use cold packs or chilled gel packs to keep the fruit fresh during transit. However our temperature controlled lorries will ensure all your fresh produce stays in perfect condition throughout its journey.
For frozen haulage, prepare the fruits in airtight bags with no air pockets and place them in a well-insulated container with thick layers of insulation such as styrofoam or bubble wrap. Additionally, you can rely on us to ensure that our frozen haulage lorries keep your fruits frozen during transit.
We offer a comprehensive range of temperature controlled logistics services and solutions such as specialised packing, tracking and tracing, temperature control and more, so do get in touch and we can tailor your temperature controlled logistics to your requirements.
Our online platform provides us with real-time updates on the status of your shipments so that you can remain in contact with us at any time.
We offer competitive rates for our services to ensure that your business remains cost effective too!
Our team is knowledgeable, experienced and dedicated to providing customer satisfaction. We are available 24/7 to assist with any questions or queries you may have regarding the logistics process.
With over 20 years of experience in the transport industry, we understand what it takes to deliver exceptional service combined with unbeatable value.
Try us out today!